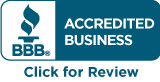 Whether you are storing your family heirlooms, antique possessions, your prize car(s) or business documents, Sussex Self Storage is the place to store!! We are your one stop storage facility.  Sussex Self Storage is dedicated to being a customer friendly, no hassle business entity.
We have great reviews from our customers, both past and present,  we have an A+ rating from the Better Business Bureau and we are continually striving to earn our customers respect and approval.
Sussex Self Storage has state of the art security camera's along with top of the line door locks and hasps. New LED exterior lighting fixtures provide excellent night time visibility so our customers can come and go 24-7 365 days a year at their convenience.
We are open Monday-Friday 10am-4pm and on Sat or Sun by appointment only.  Just ask for Theresa and know Sussex Self Storage is the place to rent to save you money!!
If you have any questions, please feel free to contact us. Thank you for taking the time to visit our website.